Diane Von Furstenberg … Not Just The Wrap Dress!!!
I am in a Diane Von Furstenberg designer wrap dress mood! Maybe it is the weather, one minute it is worm and the next it is cold. Maybe it is my new job and that report I was writing for DVF head office or maybe the wrap dress is just… a really comfortable trendy alternative to jeans and a shirt.
Klea, at work gave me a book on the "100 most unforgettable dresses" by Hal Rubenstein and somewhere between the amazing Versace dress with the safety pins worn by Elisabeth Harley and the ultra-sexy-chic white Tom Ford Gucci dresses that I will adore forever, was the Diane Furstenberg's wrap dress. Now, that is a dress women have loved passionately for the past 40 years…and  I know why! Do you?
 "Be the woman you want to be!" Diane Von Furstenberg
Five million wrap dresses later, von Furstenberg is still gaining fans young and old. She re-launched her line in 1997, and the wrap dress once again was a huge favorite. Today you can find many other designers with their own version of the wrap dress. But Diane von Furstenberg remains the standard of quality and design.
Belgium-born designer Diane von Furstenberg has been a fixture in the American fashion scene since arriving in New York in 1972 with her signature jersey wrap dress and creating a national phenomenon that landed her on the cover of Newsweek and The Wall Street Journal. Today her designs, which range from shoes to fine jewelry, are sold in over 56 countries, but she is still most often associated with the wrap dress. From her atelier in the Meatpacking district, I asked Diane about the wrap dress as her logo:
ACM: Why do you think the wrap dress has become a global, timeless classic?
DVF: Fashion is mysterious, as a rule. Why are blue jeans a classic? You just hit on something that happens to be timeless and right.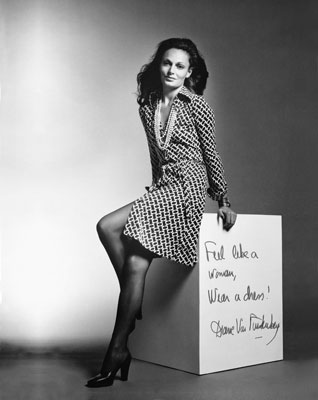 When you created the classic wrap dress in 1972, were you seeking to design an emblematic look for career women emerging from the hippie scene?
I was so young at the time and so inexperienced that it really didn't happen like that. I wanted very much to be independent and to work. I was working in Italy as an intern for a man who had all these factories. And I had a boyfriend in New York City; we got engaged and I got pregnant and before I knew it, I needed to move to America and get married. I said, "No, I need to be an independent woman." And I asked the man I was working for in Italy if I could make a few samples shirt dresses and a ballerina wrap top that I would try to sell in America. And then I turned the wrap top into a dress.
The wrap dress is the most traditional form of dressing: It's like a robe, it's like a kimono, it's like a toga. It doesn't have buttons or zippers. What made it different was that it was jersey; therefore, it was close to the body and it was a print. And the first one was animal print so it made every woman look like a feline. And that's how it happened. It's not like I was thinking "Oh, I'm creating the IT dress." I just made it and it took off and was a huge success.
Was your intention to draw out sexuality in women?
No. I've always been inspired by women, and my mission was to inspire women. I always wanted to become a certain kind of woman and I became that woman through fashion. It was a dialogue. I would see that the wrap dress made those women confident, and made them act with confidence.
When you say you always wanted to be a certain kind of woman, what does that mean?
How has the wrap dress evolved over the years?
It became a business, which I then sold. And then nine years ago when I started again, I realized that young, hip girls – models and actresses – were buying the old wrap dresses in vintage shops. And that is what inspired me to go back to the wrap dress; and that was the seed to what is now a full fashion business.
Has the dress changed in design, form or proportion since 1972?
Well, you tweak proportion. You always tweak, that's the mystery of fashion.
How do you choose fabrics and patterns?
I design most of the patterns. I take pictures of nature and I transform them into print.
Do you always wear your own designs?
Occasionally, and more now than then. I would say the wrap dress is better when you are a bit curvier.
Did you model yourself after anyone?
I never modeled myself after anyone. The person who had most influence on me was my mother, but it was really for her strength and courage more than her style, even though she had a lot of style. In a weird way, looking at pictures of me when I was 17 or 18, I was dressing the same way. I haven't changed very much.
What are your other signature style traits?
The way I look. I'm a grandmother of three children and I'm in another period of my life. I'm sure that a lot of women look at me and say "Why doesn't she do anything to her face?" and I can understand that. But every time that I have contemplated it, I just feel like I would erase part of who I am and who I have been; and I cannot erase any moment of my life because they have been so intense and so meaningful. Everyday I have learned something. Everyday I have grown somehow. And to erase any years of my life … I wouldn't feel good about that. So I do facials, but that's it. So that, in a sense, is something signature about me, because very few women do not use Botox. And it's not that I don't think that that they should, I have nothing against it. It's just somehow, for me, I feel I would betray myself.
Do you think that personal style is a professional asset?
Yes. But it doesn't just have to do with your appearance. It's your character too: Who you are, how you present yourself, how honest you are. It's your voice, the way you speak, the way you write. All of it makes you; therefore, you have a style.
What do you think the professional benefits are of making a statement with your wardrobe?
I think the wardrobe is an accessory of who you are. You absolutely do not make a statement on the outside independent from the inside. Or independently of your capacity.
Has anyone ever said anything negative about the way you look or wrap dresses?
What does the way you look and dress say about your business?
The way I live is very pragmatic and practical. I move a lot, I travel a lot. I make traveling clothes.
What did you wear when you married Barry Diller?
A dress that I designed that was an off-white, beige dress. We got married very quickly. We decided a week before that I would marry him for his birthday. We got married at City Hall with my children, my brother and that was it.
Who are your style icons?
Marlene Dietrich, Sarah Bernhardt, Jackie Kennedy, Mother Theresa, Angelina Jolie. These are all people whose style I like, and I also admire who they were or are.
What advice do you have for professionals seeking to create their own brand identity?
You make sure that what you do, how you present yourself, from your voice to your hairdo to what you wear, all fits with who you are. Because the more natural you are, the more comfortable you will be in your skin and the more confident you will be. The more confident you are, the more beautiful you are and the more successful you are.
Diane von Furstenberg & DvF-inspired wrap dresses are popular in high-fashion stores in new colors, fabrics, prints and updated styles. All are fitted, chic & flattering.
Famous fashion designer Diane von Furstenberg is best known for introducing the knitted jersey "wrap dress" in 1973. An example of this popular dress is in the collection of the Costume Institute of the Metropolitan Museum of Art, due to its significant influence on women's fashion.
Diane Von Furstenberg Spring Summer 2012 Collection
Optimism was the message of her Spring 2012 Show. Stars, flowers and stripes!
The principles behind Von Furstenberg's line have also manifested in her line. Her tag line "Feel like a woman, wear a dress!" is strongly indicative of her belief that a woman is powerful when she is in touch with her femininity and sensuality.
Very interesting article: Case Study: Donna Karan vs. Diana Von Furstenberg: The Executive Woman vs. The Woman of Leisure
You can find more about Dianna Von Furstenberg and where you can shop in Greece at Rakas.gr
My Lookbook
 SS 2012, New York Fashion Show 9.11.2011: "The light appears and everything changes," wrote Diane and Yvan. Indeed, on the day marking a decade since one of the darkest days in this country's history, certainly the darkest in my lifetime, the CDFA queen set the tone that ten years on, spirits remain indomitable and unbroken here in New York. The fashion industry, just like the city itself, has picked itself up, soldiered on and rebuilt, though the memories still linger.
There are fresh starts to be had, blank canvases to be painted upon, and beautiful burst of color awaiting just beyond the horizon. "Dawn has broken," concluded Diane sagely, "She is brand new." Hope we will say the same about Greece next year!!!!
Have a lovely Day!!!
[fblike]