English here
THE DOLL, THE  IDOL, THE FASHION ICON
Η Barbie είναι η  fashion κούκλα που γεννήθηκε στην Αμερική το Μάρτιο του 1959! Το όνομά της εξακολουθεί να είναι συνώνυμο με την αψεγάδιαστη ξανθιά με τα μακριά πόδια, το μεγάλο στήθος και το ατέλειωτο βιογραφικό. Τώρα, όμως, εμπνέει πρωτοποριακούς καλλιτέχνες όπως την φωτογράφο Mariel Clayton που δημιουργεί σοκαριστικές συνθέσεις γύρω από την ζωή της με το Ken και διάσημους fashion designers που σχεδιάζουν πανέμορφα σύνολα, αποκλειστικά για αυτήν.
.
Απίστευτο κι όμως αληθινό! Κάθε λεπτό που περνάει πουλιούνται 3 Barbie!
Dr Agnes Nairn of Bath University asked 100 children what they thought. Most had a box full of Barbies … to them Barbie has become a symbol of excess! Barbie is not special she is disposable!
Κι εγώ έπαιζα με Barbie.. εννοείται και το απολάμβανα!
Bad Barbie: The Works of Mariel Clayton 
Όταν είδα τις extreme φωτογραφίες με την Barbie της Mariel Clayton εντυπωσιάστηκα και σοκαρίστηκα! Η Barbie  κακό κορίτσι! Χμ.. Ενδιαφέρον! Όσο παρατηρούσα τις συνθέσεις σοκαριζόμουνα περισσότερο αλλά μου άρεσε η εναλλακτική οπτική της γωνία.
Mariel Clayton started out with a camera and a major interest in travel photography, but a sublime encounter in a Tokyo toy shop led her into the surreal world of Japanese miniatures, and ultimately to the stories that could be told with them.  Since she started working with dolls, she has grown more and more to appreciate what can be done with them, how the smallest gesture or placement seems to convey volumes.
Mariel Clayton : "Μισώ την Barbie"
Why Barbie ? Mariel Clayton answers !!
Mariel says:  "Because I hate Barbie. I intensely dislike the stereotype that the "ideal" female fits no current authentic female form. You can't get to be Barbie without an ocean's worth of peroxide, 27 plastic surgeries and a complete lack of intelligence, so it irritates me immensely that this is the toy of choice women give to their daughters to emulate".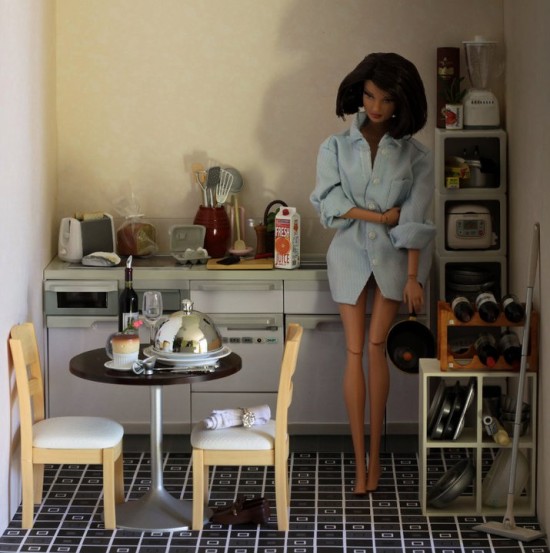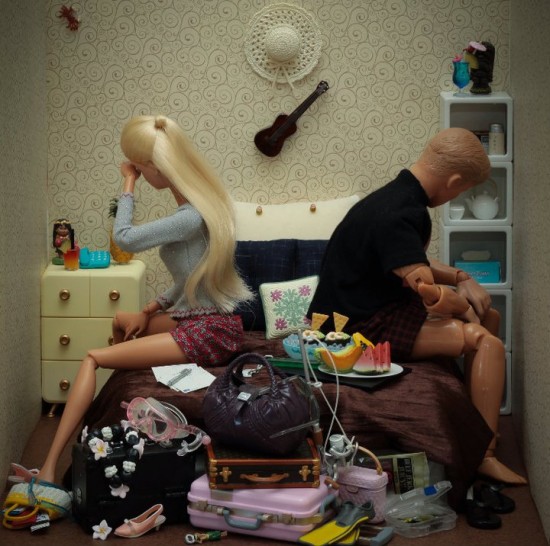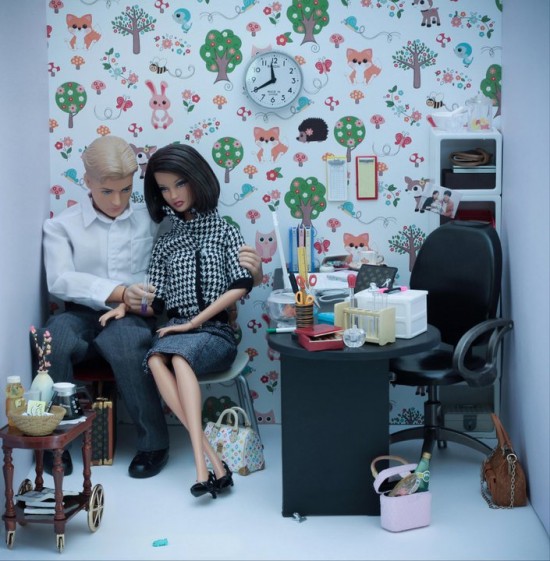 "My first picture with Barbie was actually of her committing suicide in the tub, after Ken had dumped her for another man — my wishful thinking on the end of evil influence. I'm not sure why it ended up being Barbie killing Ken, if I am to be honest — I think it's because I find it really damn funny. Behind the vacuous perpetual lipsticked-smile and soulless eyes lurks the black heart of the true sociopath, just like in real life. I think it finally makes the doll interesting, and I like that contrast between saccharine sweet and pure malevolence".
Η Barbie τα έχει όλα! Εκπληκτικά σπορ αυτοκίνητα, υπέροχα σπίτια, όποιο επάγγελμα θέλει, πολλούς φίλους, κορμάρα σύζυγο, παιδιά και τώρα στα 52, εμπνέει πρωτοποριακούς καλλιτέχνες της νέας γενιάς! Δεν είναι και τόσο χαζή αυτή η ξανθιά?!
Have a lovely Day!!!