Barbie is a fashion doll manufactured by the American toy-company Mattel Inc. and was launched in March 1959. American businesswoman Ruth Handler is credited with the creation of the doll using a German doll called Bild Lilli as her inspiration.
[br]
[br]
[br]
THE BARBIE DOLL, THE  IDOL, THE FASHION ICON
[br]
At 52 years old, Barbie doll has been an astronaut, a chef, a vet, a pilot, a Doctor, a deep-sea diver, a ballerina and a lot more… Now she's a muse to cutting-edge designers and artists! Barbie's CV is as lengthy as her waist is waspy and her long-standing reputation as a timeless cultural and fashion icon – is by no means facing retirement just yet! Get ready to see Barbie as you never saw her before….
[br]
Whenever someone mentions Barbie's name images of a glamorous doll with long blond hair, a tiny waist, and a big bust come to my mind. She sure captures the attention!
[br]
[br]
[br]
[br]
[br]
[br]
With 3 Barbies sold every second, has Barbie become a victim of her own success? Dr Agnes Nairn of Bath University asked 100 children what they thought. Most had a box full of Barbies … to them Barbie has become a symbol of excess! Barbie is not special she is disposable!
[br]
[br]
[br]
However, all I was worried about was whether or not Barbie had all her accessories and looked pretty once I clothed her. I never once thought that I should strive to look like Barbie or that she was the epitome of feminine beauty. Barbie was just a doll; that was it.  I enjoyed playing with her and she made me happy!!!
[br]
[br]
I've read some blogs and heard many discussions regarding Barbie's bad influence on young girls and their body image.  Her super thin figure, elongated legs, and big bust do reflect an unrealistic body shape for anyone.  Perhaps some young girls have looked at Barbie and imagined looking like her.  Perhaps in some of these cases, this desire has grown into unhealthy obsessions and girls have turned to extreme measures to transform their bodies to look like Barbie but anorexic models are  far worse !
[br]
Bad Barbie: The Works of Mariel Clayton 
[br]
When I saw the works of  Mariel Clayton, I  was socked and impressed!! Barbie doing things you would never expect… her work isn't for everyone, but I like it !!! Mariel Clayton started out with a camera and a major interest in travel photography, but a sublime encounter in a Tokyo toy shop led her into the surreal world of Japanese miniatures, and ultimately to the stories that could be told with them.
Since she started working with dolls, she has grown more and more to appreciate what can be done with them, how the smallest gesture or placement seems to convey volumes.
[br]
[br]
[br]
Why Barbie ? Mariel Clayton answers !!
[br]
Mariel says:  "Because I hate Barbie. I intensely dislike the stereotype that the "ideal" female fits no current authentic female form. You can't get to be Barbie without an ocean's worth of peroxide, 27 plastic surgeries and a complete lack of intelligence, so it irritates me immensely that this is the toy of choice women give to their daughters to emulate".
[br]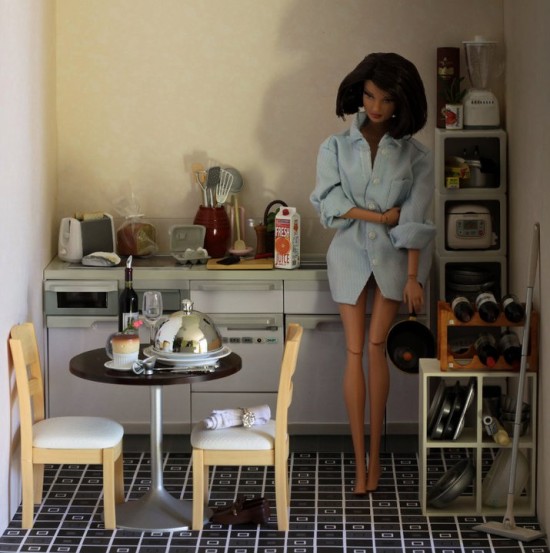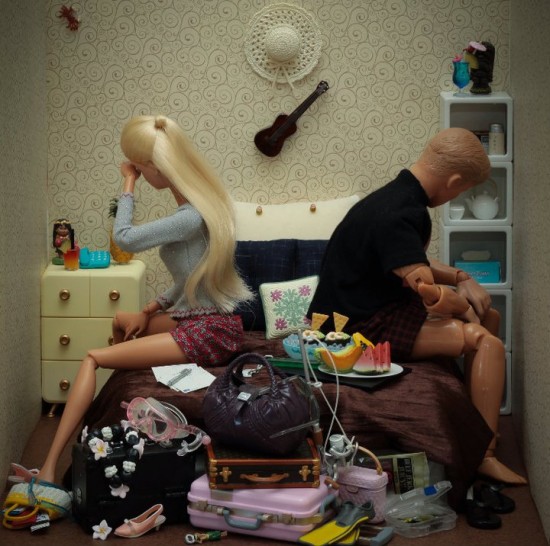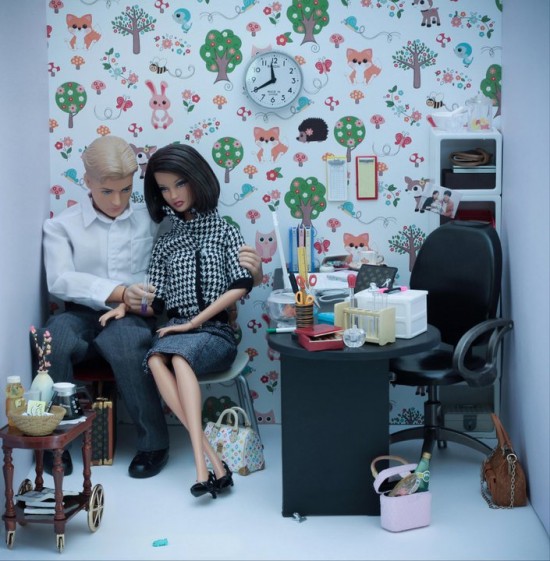 [br]
"My first picture with Barbie doll was actually of her committing suicide in the tub, after Ken had dumped her for another man — my wishful thinking on the end of evil influence. I'm not sure why it ended up being Barbie killing Ken, if I am to be honest — I think it's because I find it really damn funny. Behind the vacuous perpetual lipsticked-smile and soulless eyes lurks the black heart of the true sociopath, just like in real life. I think it finally makes the doll interesting, and I like that contrast between saccharine sweet and pure malevolence".
[br]
[br]
Barbie had it all, so who wouldn't want to live the Barbie life? She had all the nice sports cars, she lived in luxurious homes, she had lots of friends, and she was accomplished in several professional careers.  She inspired artists! And did I mention her wardrobe?  A shopaholic's dream!!!  This ain't no dumb blonde?!
[br]
Have a lovely Day!!!